Los Angeles-based illustrator Lili Chin created 'Dogs Of The World', a series of delightful posters featuring more than 200 popular dog breeds grouped by their countries of origin.
Ever wondered where the ancestors of the Golden Retriever, German Shepherd and Corgi hail from? These adorable illustrations offer a fun and unique way to learn more about the various canines and their beginnings.
Now, all we need is just a cat breed series.
American Dogs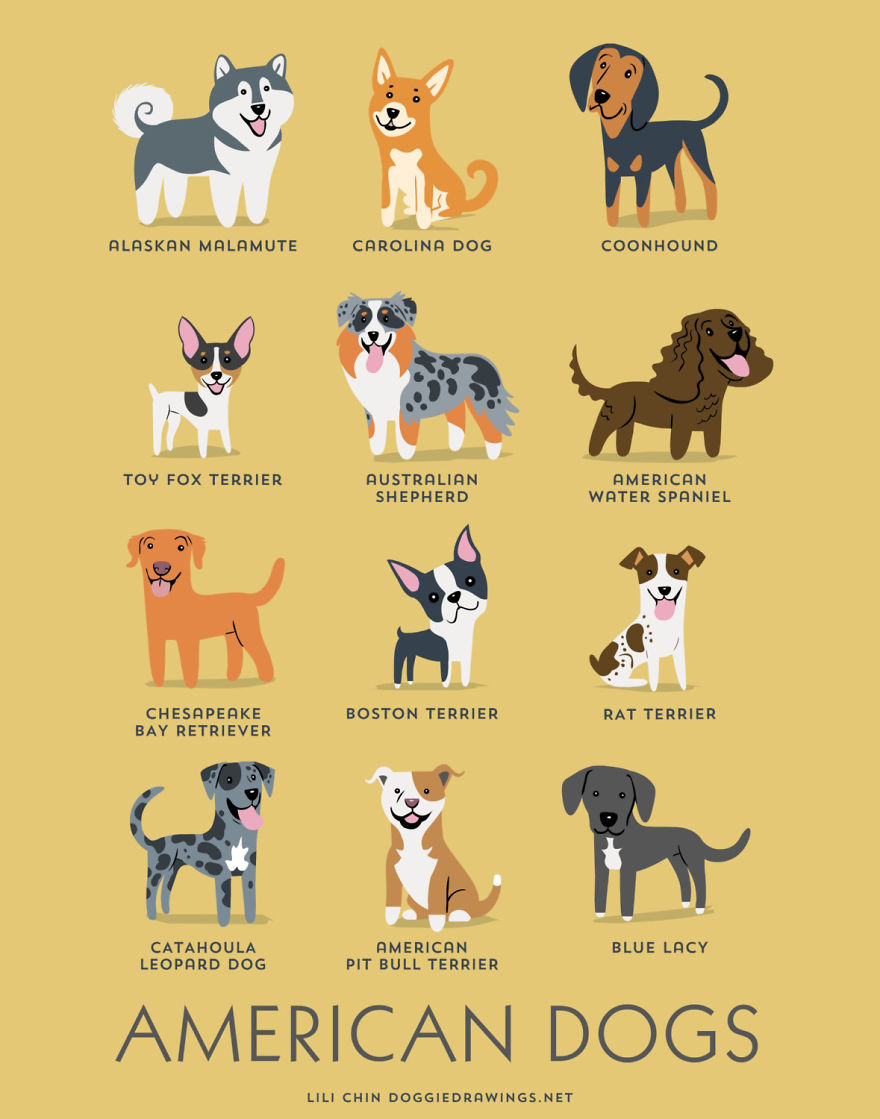 Alaskan Malamute, Carolina Dog, Coonhound, Toy Fox Terrier, Australian Shepherd, American Water Spaniel, Chesapeake Bay Retriever, Boston Terrier, Rat Terrier, Catahoula Leopard Dog, American Pit Bull Terrier, Blue Lacy
Latin American Dogs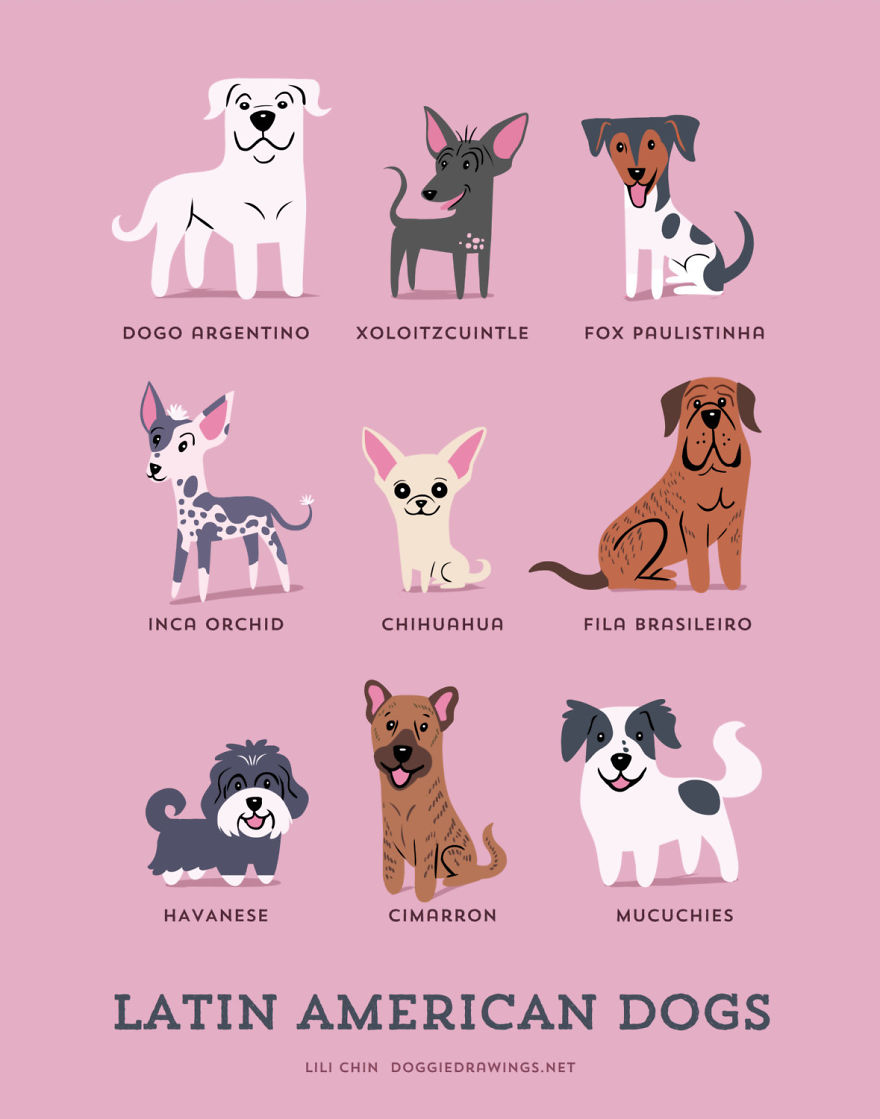 Dogo Argentino (Argentina), Xoloitzcuintle (Mexico), Fox Paulistinha (Brazil), Inca Orchid, (Peru), Chihuahua (Mexico), Fila Brasileiro (Brazil), Havanese (Cuba), Cimarron (Uruguay), Mucuchies (Venezuela)
Canadian Dogs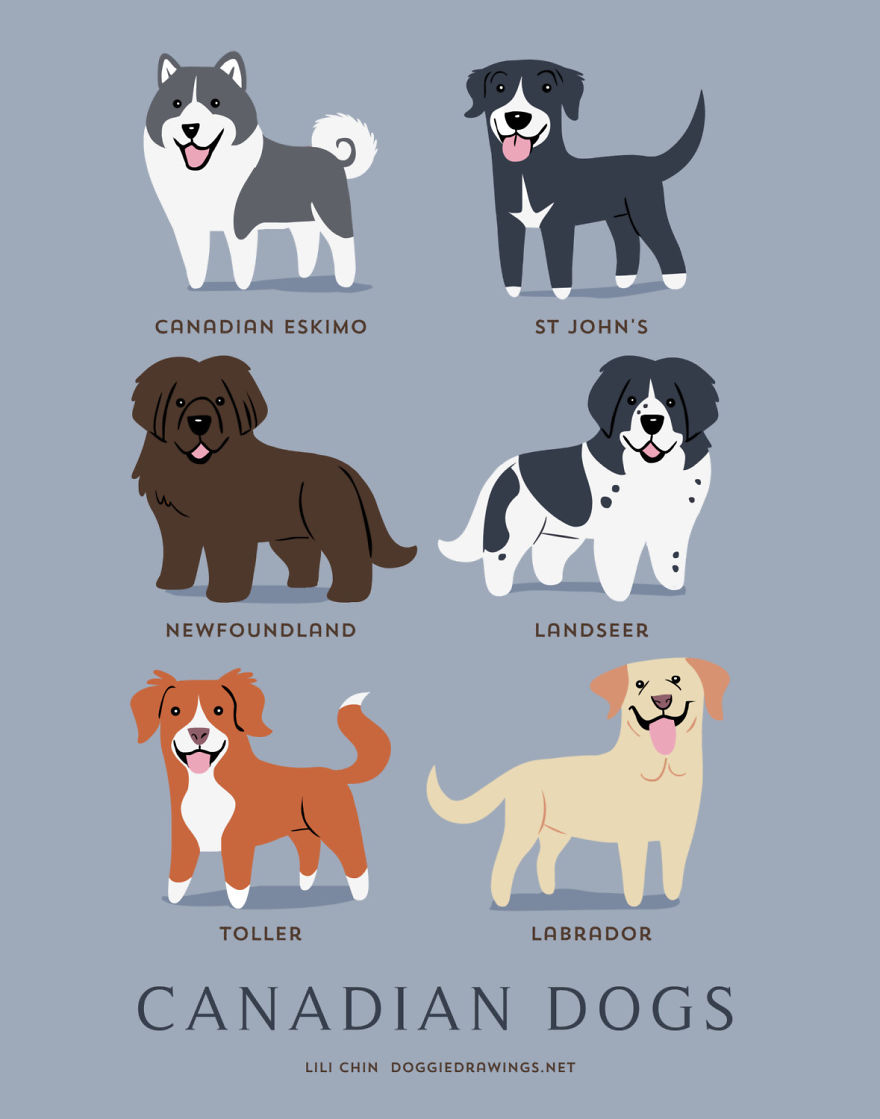 Canadian Eskimo, St John's Water Dog, Newfoundland, Landseer, Nova Scotia Duck Tolling Retriever, Labrador Retriever
African Dogs

Sloughi (North Africa), Coton De Tulear (Madagascar), Saluki (Egypt), Africanis (South Africa), Basenji (Congo), Aidi (Morocco), Azawakh (Morocco/Tunisia), Boerboel (South Africa), Rhodesian Ridgeback (Rhodesia)
Belgian Dogs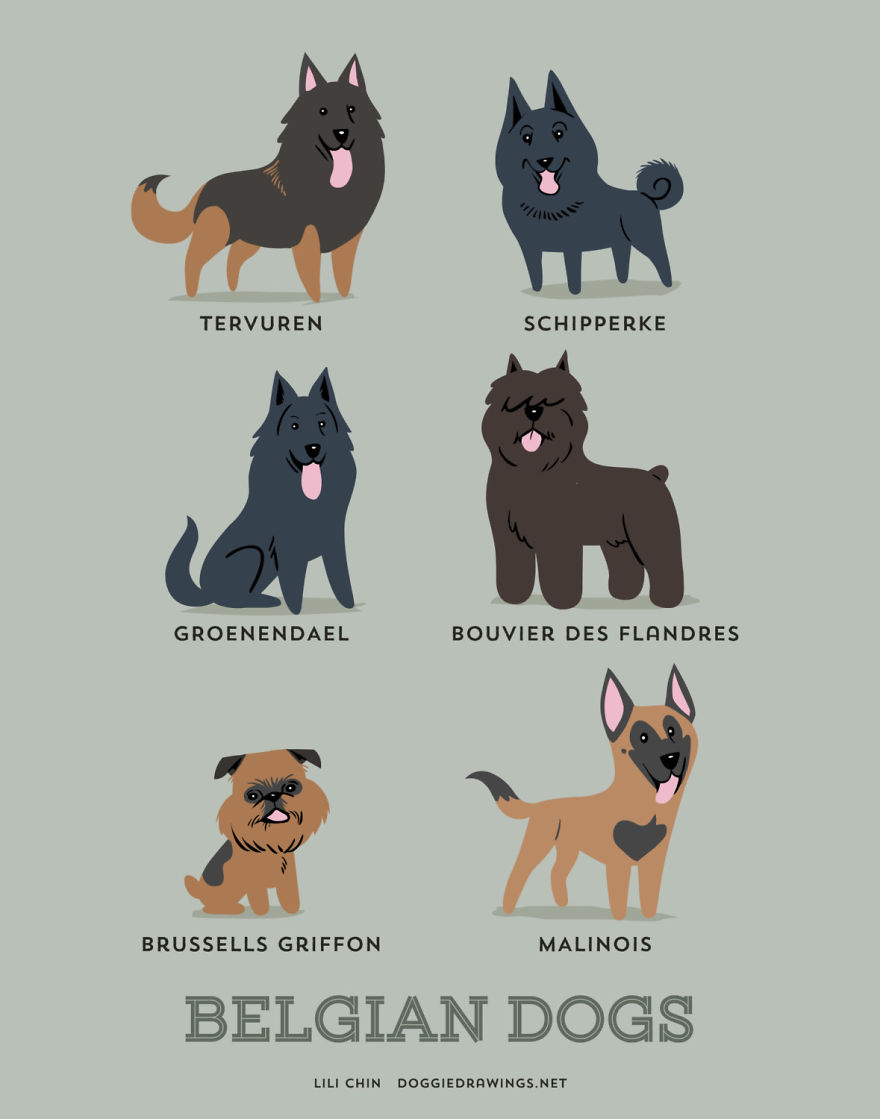 Tervuren, Schipperke, Groenendael, Bouvier des Flandres, Brussels Griffon, Malinois
English Dogs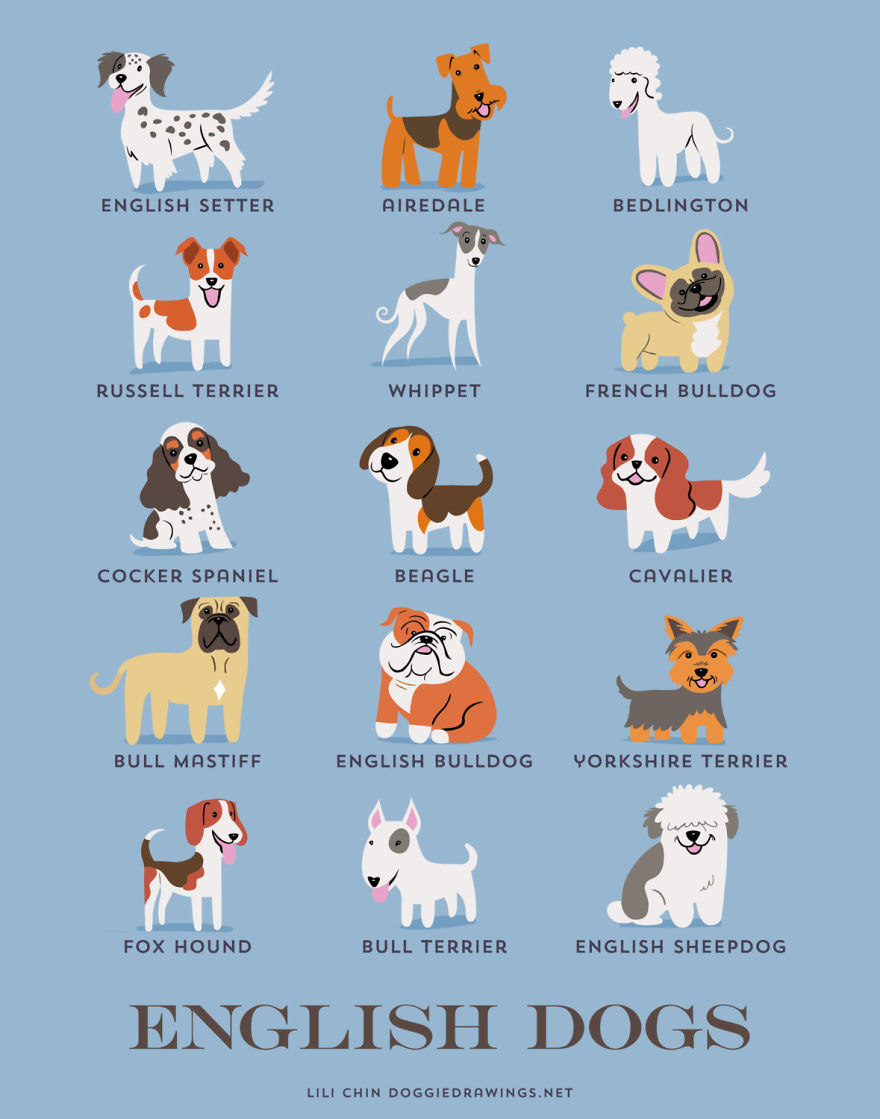 English Setter, Airedale, Bedlington Terrier, Russell Terrier, Whippet, French Bulldog, Cocker Spaniel, Beagle, Cavalier Spaniel, Bull Mastiff, English Bulldog, Yorkshire Terrier, Fox Hound, Bull Terrier, English Sheepdog
French Dogs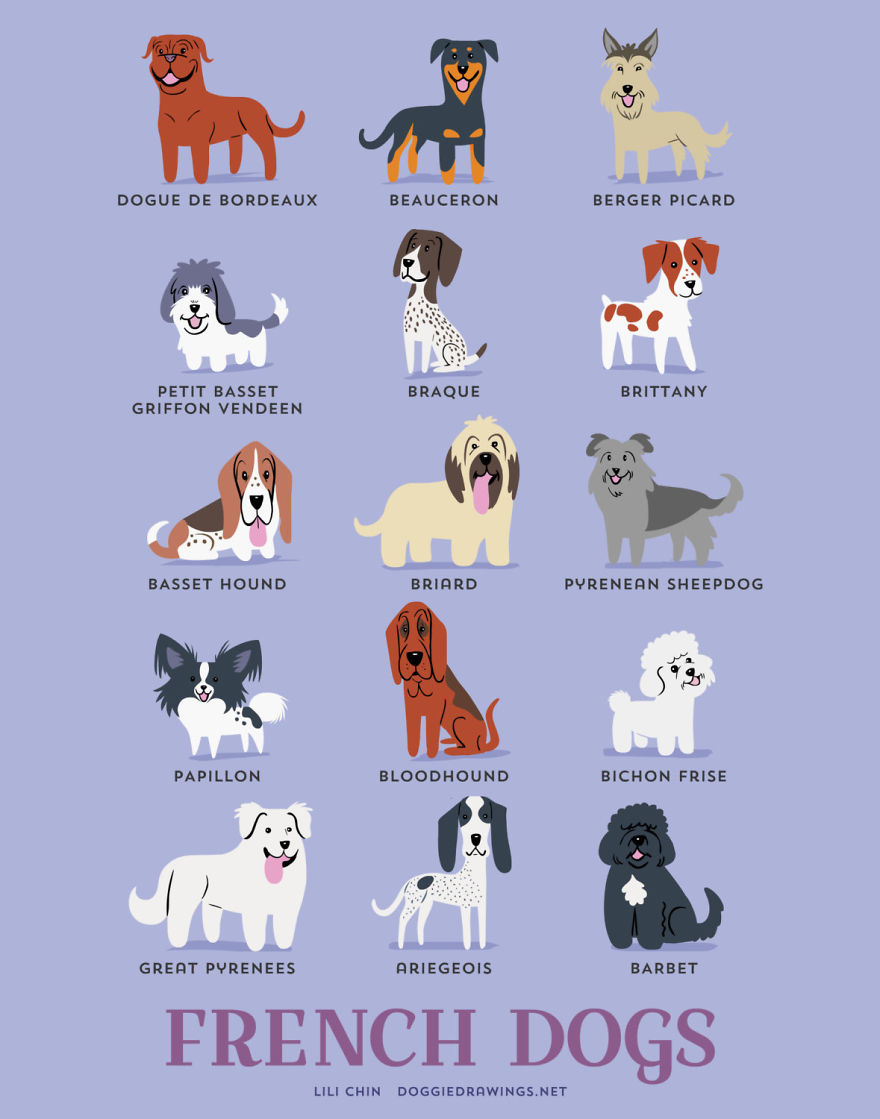 Dogue de Bordeaux, Beauceron, Berger Picard, Petit Basset Griffon Vendeen, Braque Francais, Brittany, Basset Hound, Briard, Pyrenean Sheepdog, Papillon, Bloodhound, Bichon Frise, Great Pyrenees, Ariegeois, Barbet
German Dogs

Affenpinscher, Poodle, Doberman, Leonberger, Pomeranian, Keeshond, American Eskimo, Miniature Pinscher, Great Dane, Dachshund, German Shepherd, Schnauzer, Boxer, Weimeraner, Rottweiler
Scottish Dogs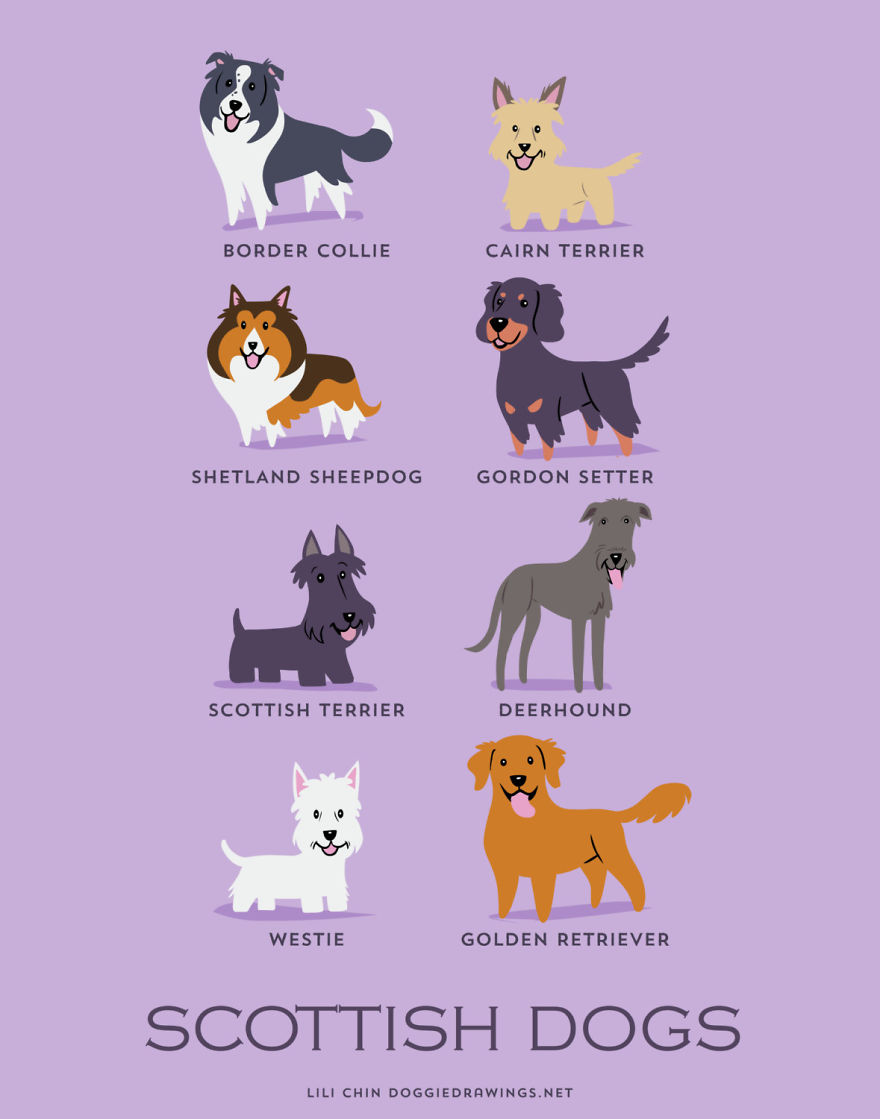 Border Collie, Cairn Terrier, Shetland Sheepdog, Gordon Setter, Scottish Terrier, Deerhound, West Highland Terrier, Golden Retriever
Irish Dogs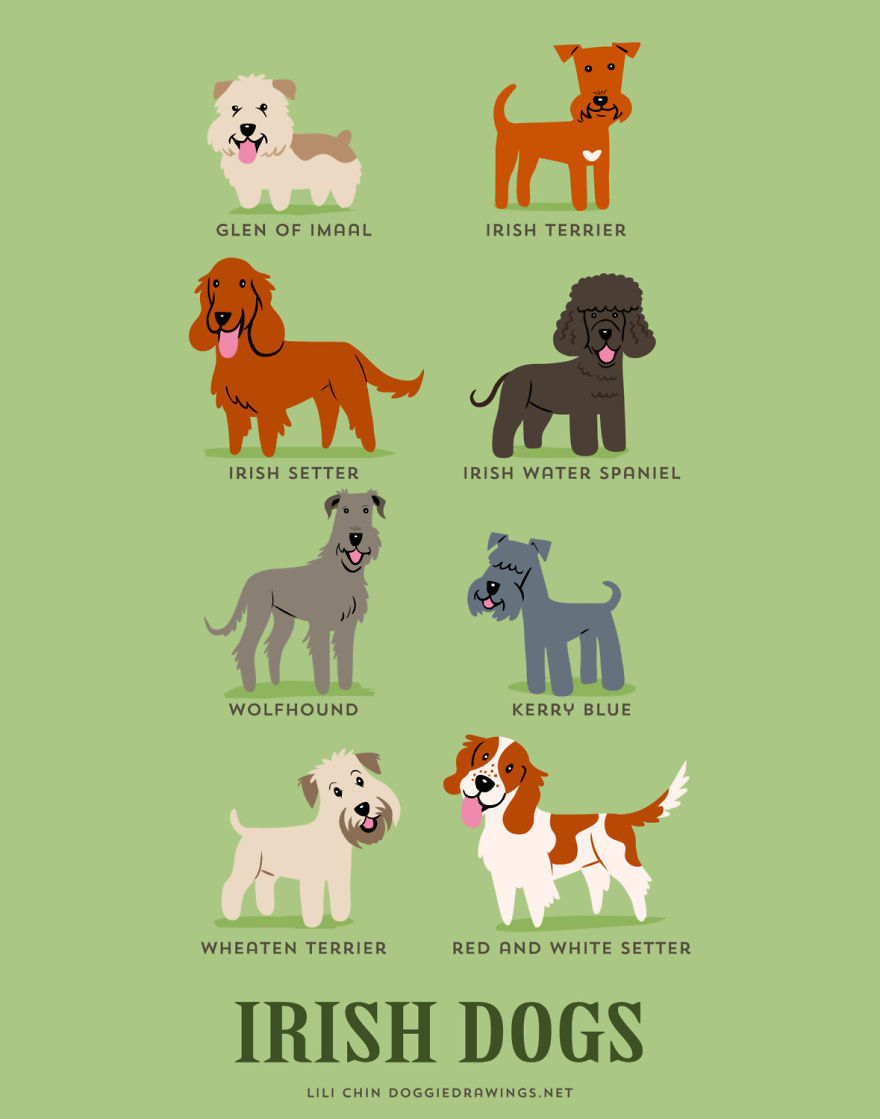 Glen of Imaal terrier, Irish terrier, Irish Setter, Irish Water Spaniel, Wolfhound, Kerry Blue, Wheaten Terrier, Red and White Setter
Welsh Dogs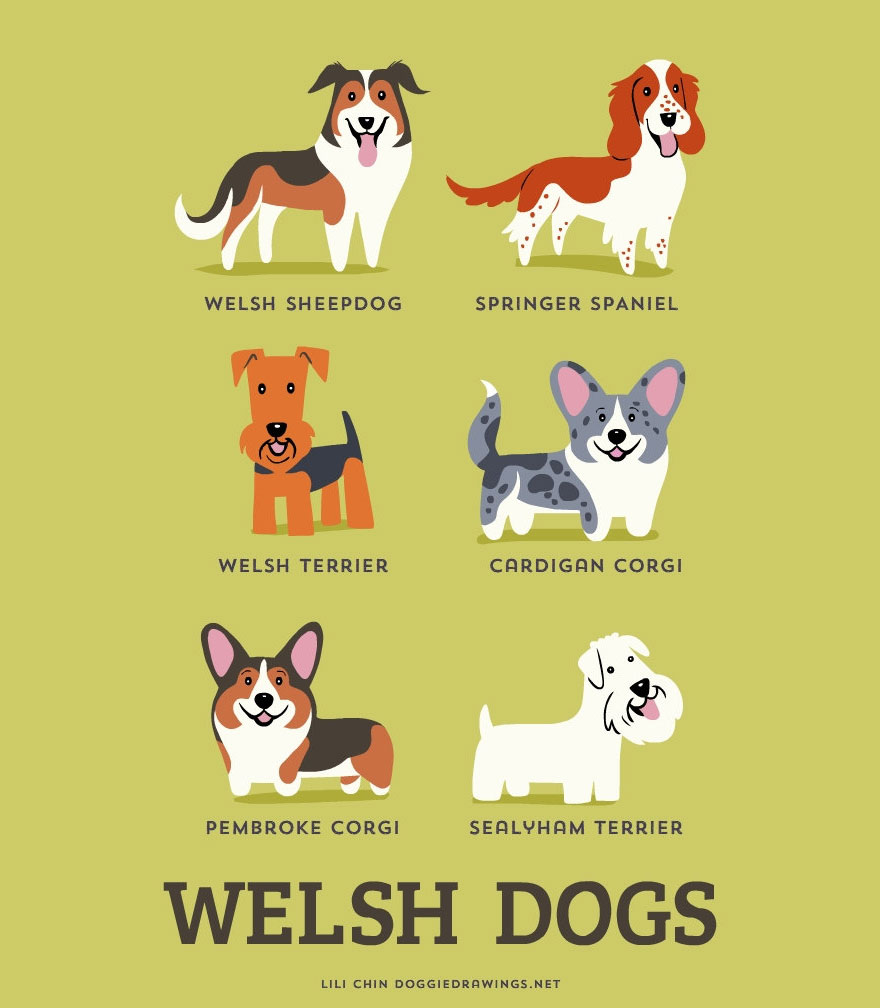 Welsh Sheepdog, Springer Spaniel, Welsh Terrier, Cardigan Corgi, Pembroke Corgi, Sealyham Terrier
Nordic Dogs

Broholmer (Denmark), Danish-Swedish Farmdog, Vallhund (Sweden), Icelandic Sheepdog, Lapphund (Sweden), Jamthund (Sweden), Norwegian Elkhound, Lundehund (Norway, Hamiltonstovare (Sweden), Karelian Bear Dog (Finland), Dunker (Norway), Danish Pointer
Dutch Dogs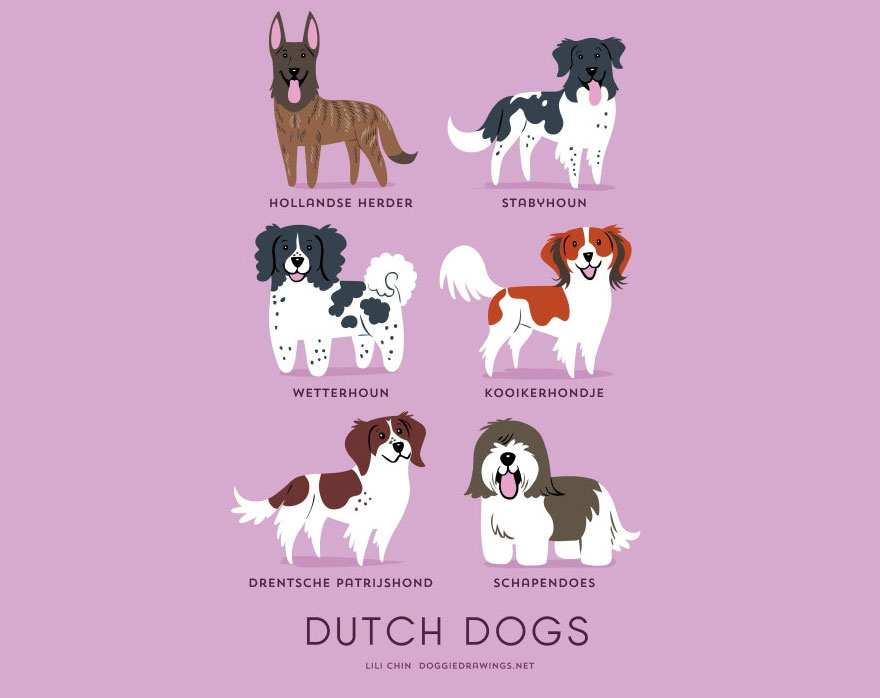 Hollandse Herder (Dutch Shepherd), Stabyhoun, Wetterhoun (Frisian Water Dog), Kooikerhondje, Drentsche Patrijshond (Dutch Partridge Dog), Schapendoes
Swiss Dogs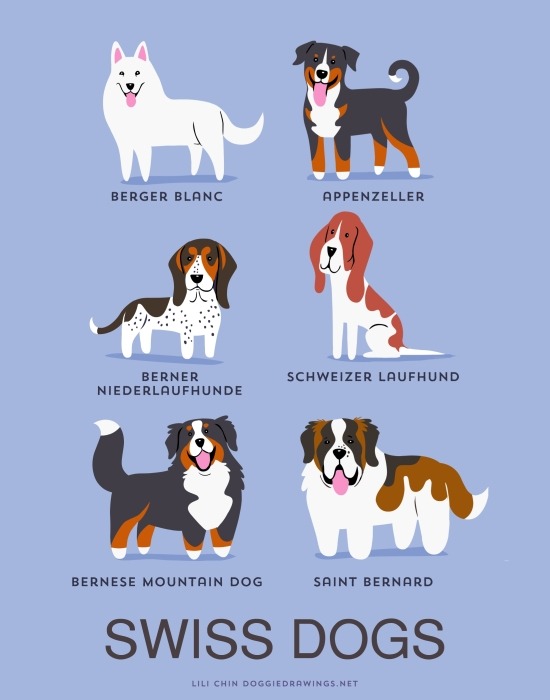 Berger Blanc Shepherd, Appenzeller, Berner Niederlaufhunder (Small Bernese Hound), Schweizer Laufhund, Bernese Mountain Dog, Saint Bernard
Iberian Dogs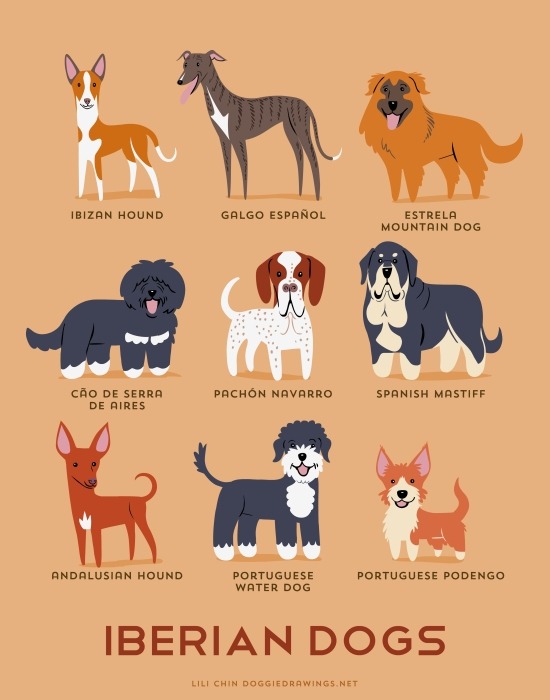 SPAIN: Ibizan Hound, Galgo Espanol (Spanish Greyhound), Estrela Mountain Dog, Pachon Navarro, Spanish Mastiff, Andalusian Hound. PORTUGAL: Portuguese Water Dog, Portuguese Podengo, Cao De Serra De Aires (Portuguese Sheepdog)
Eastern European Dogs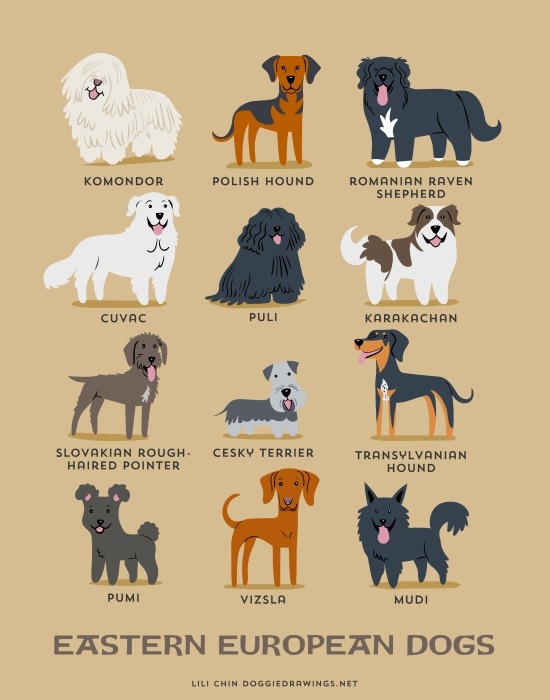 Komondor (Hungary), Polish Hound, Romanian Raven Shepherd, Puli (Hungary), Karakachan (Bulgaria), Cuvac (Slovak Republic), Slovakian Rough-Haired Pointer, Cesky Terrier (Czech Republic), Transylvanian Hound (Romania), Pumi (Hungary), Vizsla (Hungary), Mudi (Hungary)
Russian Dogs

Siberian Husky, Sulimov, South Russian Ovcharka, Borzoi, East Siberian laika, Samoyed, Black Russian Terrier, Russkiy Toy
Mediterranean Dogs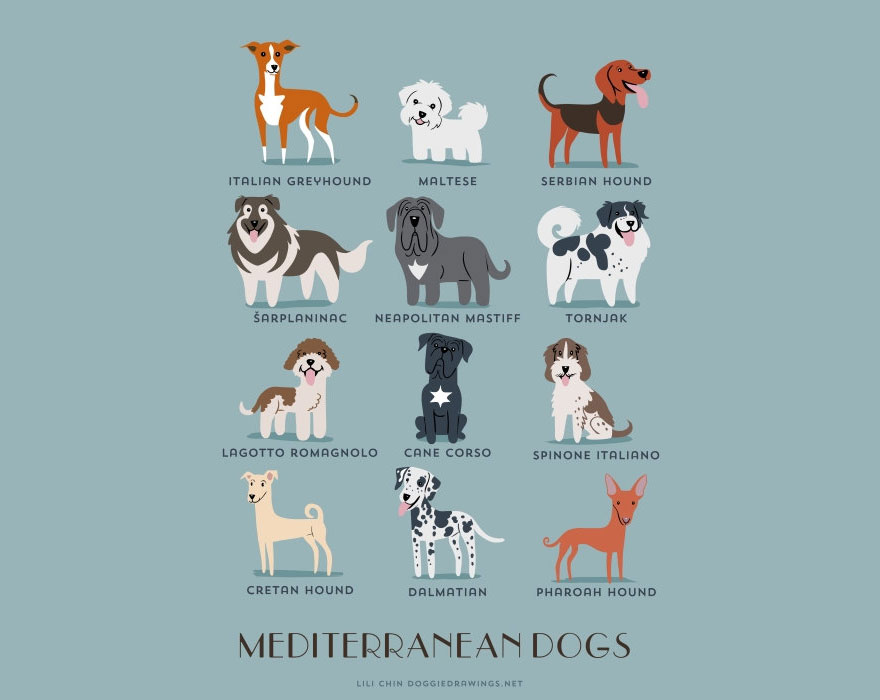 Cretan Hound (Greece), Italian Greyhound (Greece/Turkey), Maltese (Malta), Serbian Hound, Sarplaninac (Albania/Macedonia), Neapolitan Mastiff (Italy), Tornjak (Bosnia), Lagotto Romagnolo (Italy), Cane Corso (Italy), Spinone Italiano, Dalmatian (Croatia), Pharoah Hound/Kalb Tal-Fenek (Malta)
Middle Eastern Dogs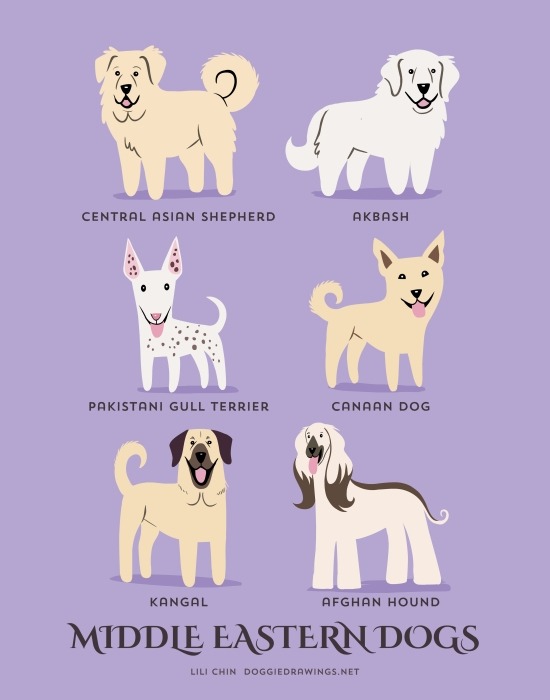 Akbash/Anatolian Shepherd (Turkey), Central Asian Shepherd, Pakistani Gull Terrier, Canaan Dog (Israel), Kangal (Turkey), Afghan Hound (Afghanistan)
Asian Dogs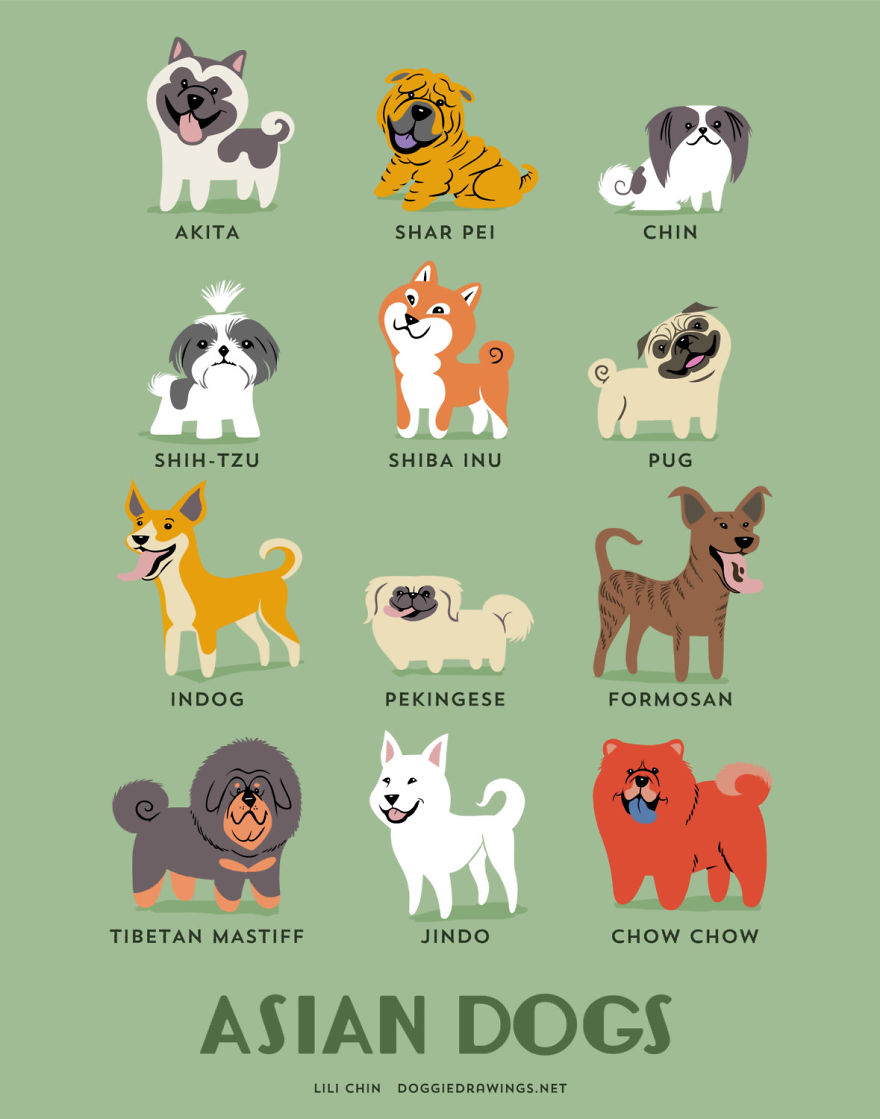 Akita (Japan), Shar Pei (China), Chin (Japan), Shih-Tzu (China), Shiba-Inu (Japan), Pug (China), Indog (India), Pekingese (China), Formosan Mountain Dog (Taiwan), Tibetan Mastiff (Tibet), Jindo (Korea), Chow Chow (China)
Australian Dogs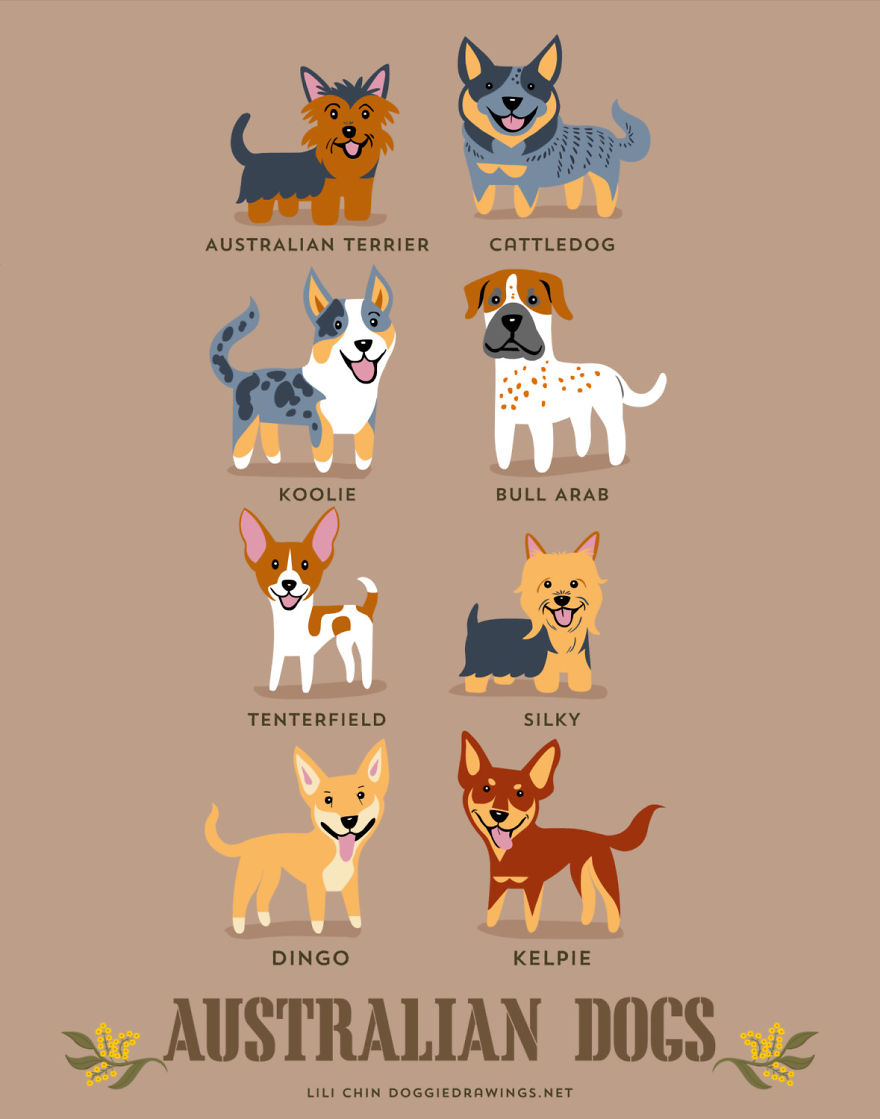 Australian Terrier, Cattledog, Koolie, Bull Arab, Tenterfield Terrier, Silky Terrier, Dingo, Kelpie
For more, check out Lili's website where she also has prints for sale. These colorful drawings are sure to tickle every canine lover's fancy. Share them with other dog lovers you know.