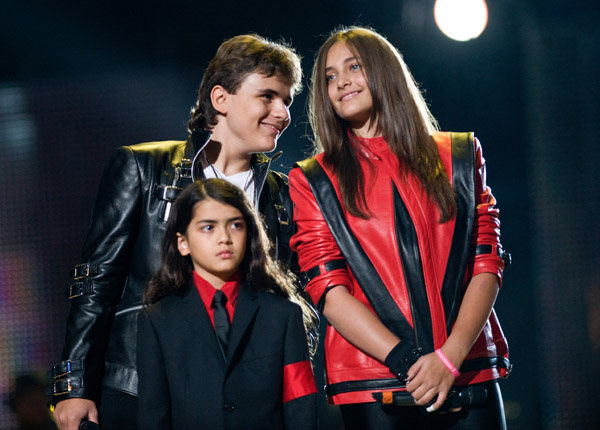 As Michael Jackson's estate grows in value, the yearly allowance his children Prince, 17, Paris, 16, and Blanket, 12, share has increased from $5 million to $8 million—and it sounds like they take full advantage of it.
Prince has spent more than $50,000 on custom-made jewelry for three of his girlfriends, plus $40,000 on a new Ford pick-up truck. He wants to save enough money to buy back his father's Neverland Ranch, currently in control of creditors with an asking price of $35 million.
Paris also likes to buy gifts for friends, including shoes and athletic gear. The annual cost for her to stay at a therapeutic boarding school, following last year's suicide attempt, is also in the six figures.
Blanket likes to take his cousins to dinners at expensive restaurants; their nights out, which also include trips to the movies, typically come to about $500 plus tips. He also spends $200 an hour for karate lessons and a personal trainer.
The kids also take three vacations a year, totaling $350,000 including first-class airfare and security—in Hawaii, they stay in a $5,500-per-night suite; in Vegas, they sometimes rent the Bellagio's penthouse suite, which can cost as much as $5,000 per night.
Even so, "they're not [as bad] as their father" when it comes to spending wildly, one source says.
Jacko famously paid his pals Elizabeth Taylor and Marlon Brando $1 million each to appear at his 30th anniversary concert in New York. He also regularly lavished Taylor with diamonds and other jewelry and perfume that easily cost him millions.
"There were times he and Liz would be sitting at her house or at Neverland, and she'd be looking through a catalog of jewels and she'd just point out the ones she liked," another insider said.
"Once, when she pointed out the jewels, instead of ordering them, Michael hired a private jet and sent two security guys to Switzerland to buy the jewelry and he made sure that they came back right away so that he could give it to Liz before she would leave the ranch," he said.
Jacko once dropped $4 million on a life-size bronze statue of a child and bought two $75,000 bottles of perfume because the flask was made of gold and diamonds.
He also spent $90,000 "wooing" child star Macaulay Culkin at a Hawaiian resort in 1991.
"It was the damnedest thing, he paid for a radio advertisement to announce a false ceremony that he was supposed to attend and he thought that it would impress Mac, so that the child would find it cool to hang with him. Then, he takes him on this expensive gondola-like ride along the ocean and buys Mac's caretaker an expensive necklace and sends her shopping just so he could spend time with him," the insider recalled.
This is the lifestyle of the rich and famous. How would you spend your millions? Share this story with others below.