It's been 4 days since Malaysia Airlines MH370 has gone missing with 239 people on board. The last known location of the doomed plane is an area where the Gulf of Thailand meets the South China Sea. None of the debris and oil slicks spotted in the South China Sea or Malacca Strait so far have proved to be linked to the disappearance.
Malaysia's military now thinks the Boeing 777 turned around over the Gulf of Thailand and flew at least 350 miles away from its destination, Beijing.
Air force chief Rodzali Daud said the plane was last detected near Pulau Perak, a tiny island in the Strait of Malacca – meaning it crossed back over part of Malaysia.
Here's a rough map of what that would look like, based on the plane's original route, its last radar position, and information from the military.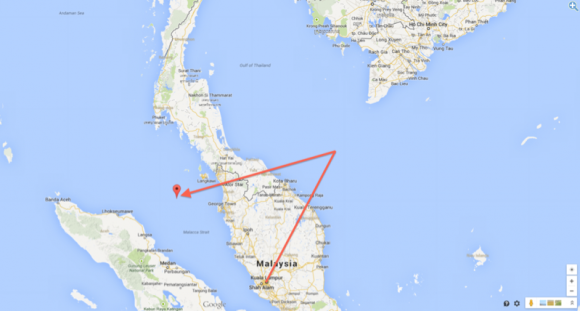 And here's the first part of the plane's journey, via FlightRadar24:

What do you think happened to the plane?