Disneyland: home of fantastical fireworks, rip-roaring rides, more souvenirs than you can shake a four-fingered glove at — and, it so happens, some of the best theme park food this side of Arendelle.
Bars and restaurants at the Disneyland Resort have figured out what guests crave, from sweet, buttery pineapple soft serves to boozy green screwdrivers made with five different kinds of rum. We've compiled some of our favorite must-eats and drinks to put on your Disney Bucket List. Yep, turns out that, in addition to bringing joy to the lives of suburbanites everywhere, the Mouse sure knows how to fry a mean beignet.
Peanut Butter & Jelly Soda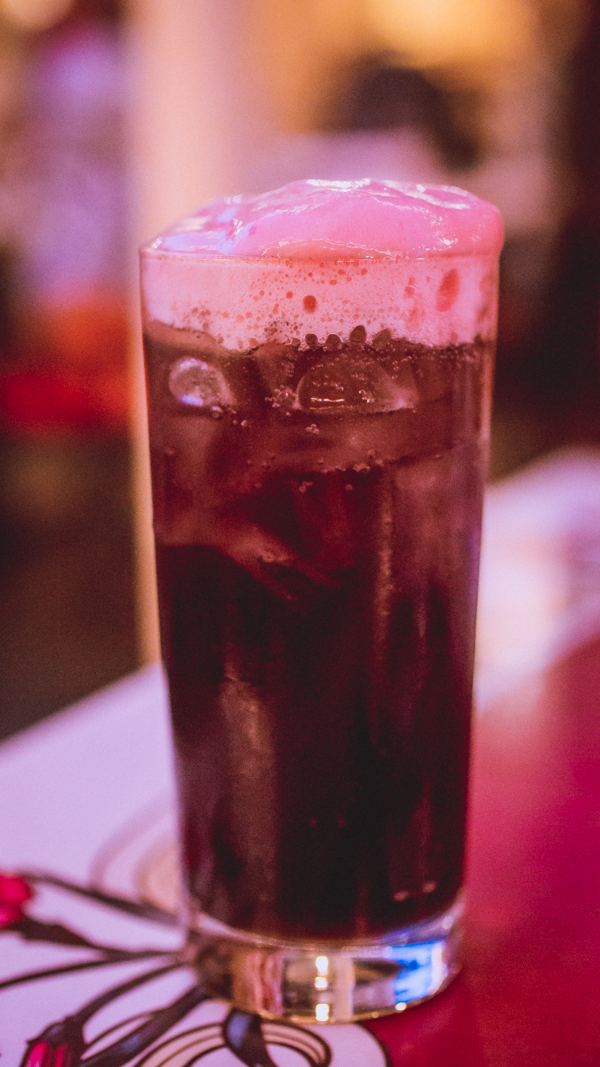 What: A light, pinkish grape soda infused with hints of peanut and topped with a fizzy foam. The secret here is in the subtlety, since neither the PB nor the J is too overpowering, but just present enough to remind you of after school snacks.
Where: Carnation Cafe, Main Street, Disneyland
The Uh-Oa!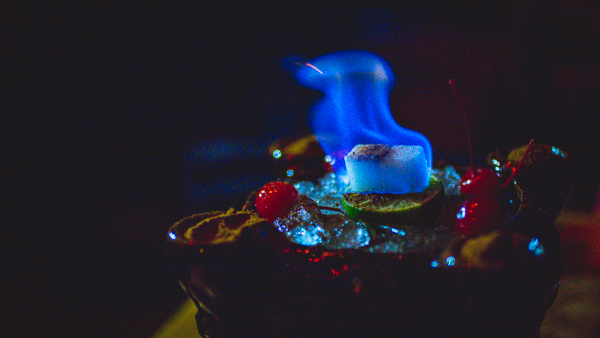 What: The name Uh-Oa! can be one of two things: a sizable Tiki fishbowl filled with light and dark rums, various tropical juices, and a pinch of cinnamon; or what you'll say when you order the damn thing. Find it in the Enchanted Tiki Room-like Trader Sam's Bar at the Disneyland Hotel, along with plenty of chanting and a high chance of showers.
Where: Trader Sam's Bar at The Disneyland Hotel
Wine and Cheese Box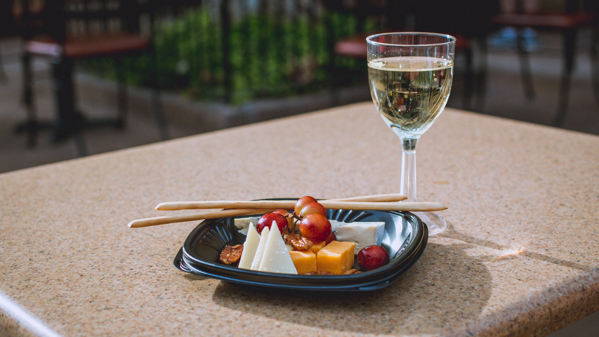 What: Gorging indiscriminately on turkey legs and soda is so 1955 (we're guessing). In any case, Disney's classed it up a bit since Walt's days, and you can too, by pairing your own wines and cheeses on the Mendocino Terrace. The box also comes with extra packets of breadsticks, score.
Where: Mendocino Terrace, Pacific Wharf, California Adventure
The Zombie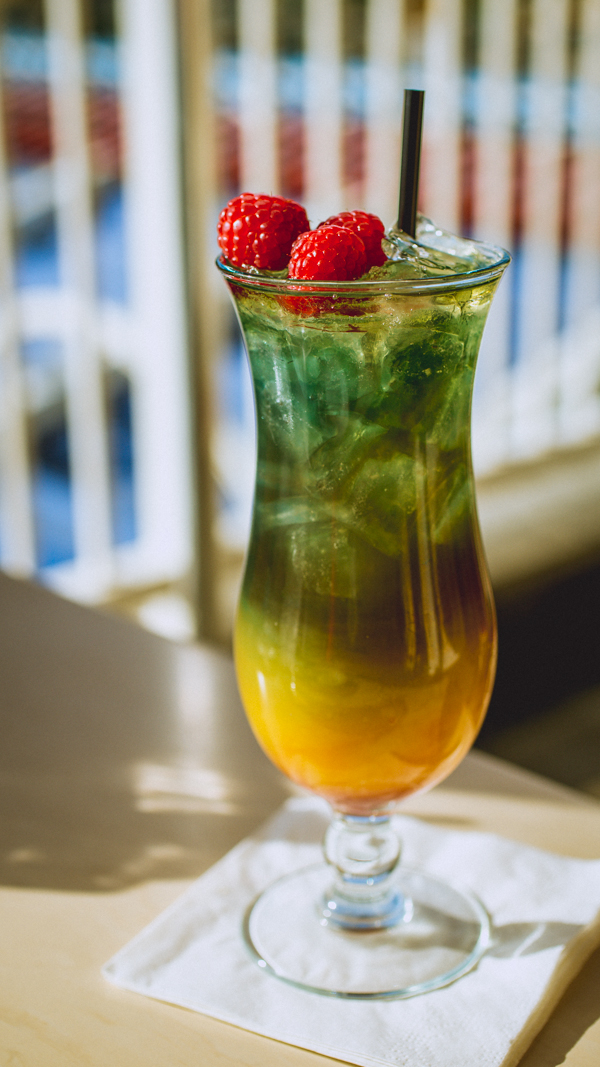 What: This one's a doozy. Recipes vary by bartender, but expect three to five different kinds of rum including Bacardi 151 and just a "splash" of fruit juice. Just the thing to snap you out of zombie mode after a long day at the park, or send you right back into it.
Where: Cove Bar, Paradise Pier (behind Ariel's Grotto Restaurant), California Adventure
Matterhorn Macaroon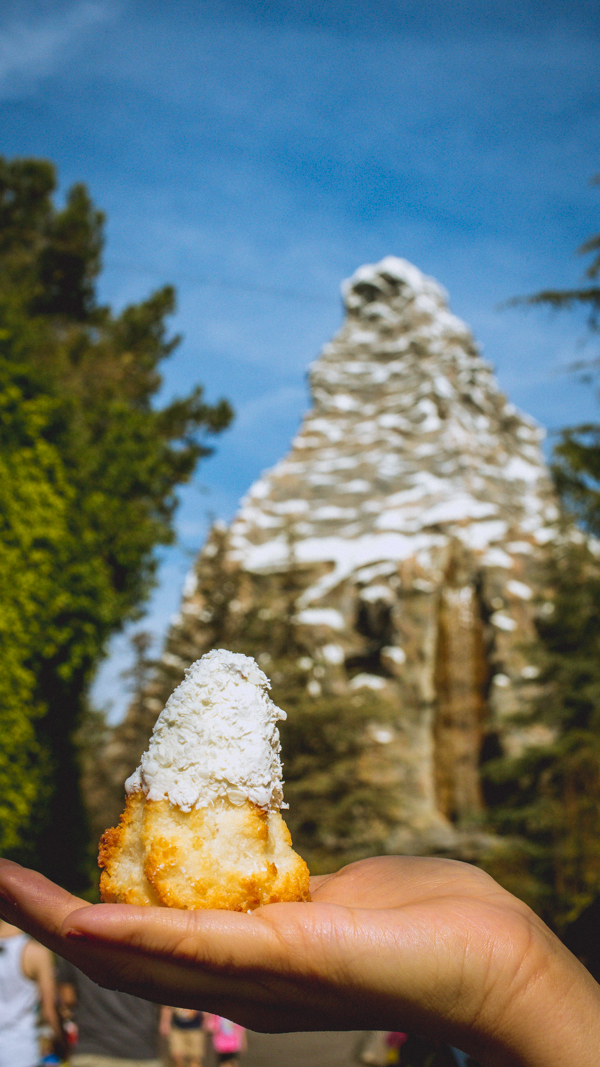 What: This mini-mountain is basically a crunchy, coconut crag crowned by delicate snow "cream." It's sweet and simple, and best of all, totally Insta-worthy. #vacationcaloriesdontcount
Where: Jolly Holiday Bakery, Main Street, Disneyland
Dole Whip, Salted Caramel, Strawberry Cream-Flavored Churros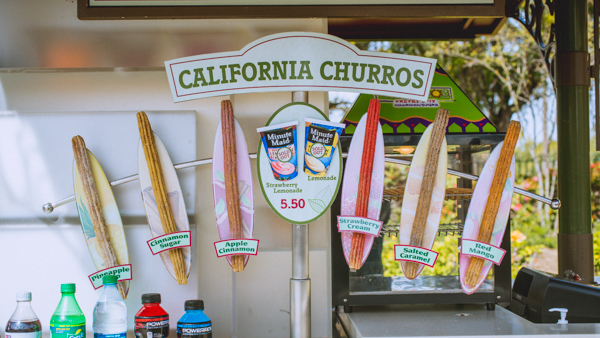 What: When regular cinnamon just won't cut it, don't fret. These sundry flavored churros found outside the park are edgier and more inspired than your average deep-fried sugar stick. Pro-tip: save a pineapple one for dipping into your Tiki Room Dole Whip for an unimaginably indulgent treat.
Where: California Churro Cart, Downtown Disney (near The Lego Store)
Dole Whip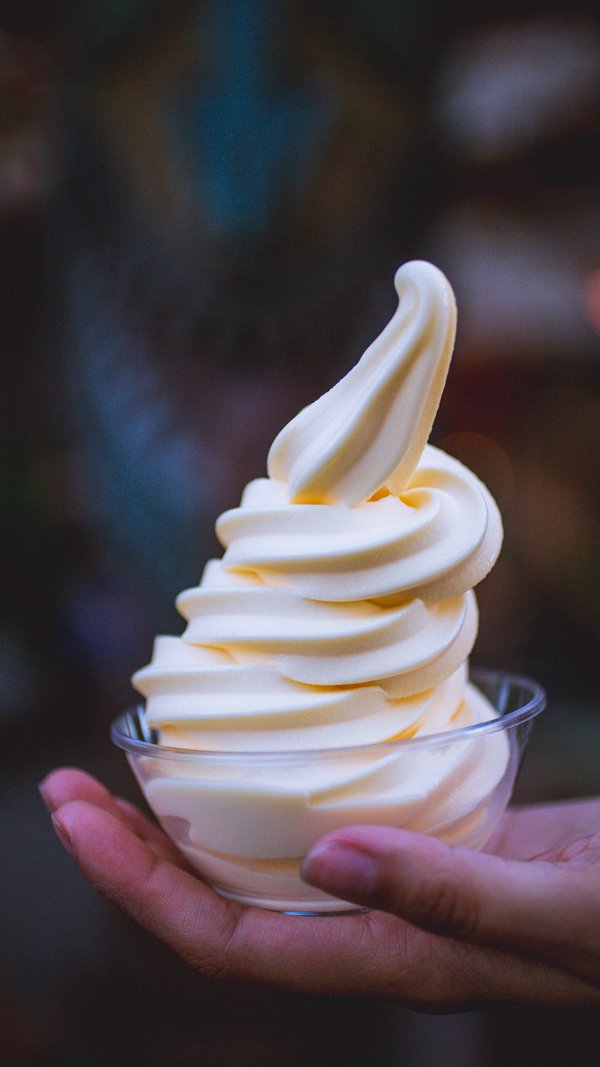 What: Speaking of, Disneyland's Dole Whip soft serve is quite possibly the closest thing you'll get to tasting an orgasm in a cup (or whatever the PG version of that might be). Available as a plain soft serve or in a pineapple juice float, its lush, buttery, and tart flavors shine best when eaten slowly and deliberately, Ratatouille-style.
Where: The Enchanted Tiki Room, Adventureland, Disneyland
Chocolate Covered Peanut Butter Sandwich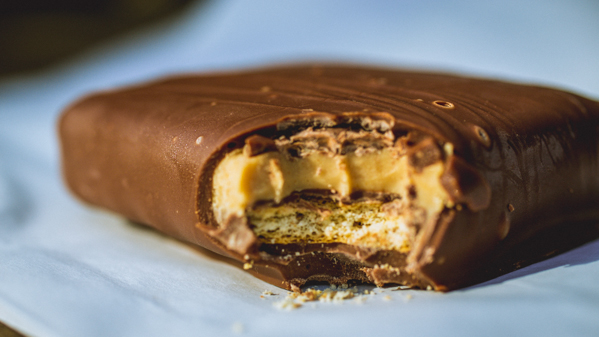 What: Perfectly sized and perfectly peanut buttery, the Chocolate Covered Peanut Butter Sandwich is a bit more cookie than sandwich, but ideal for an in-park Reese's fix.
Where: Pooh's Corner, Critter Country, Disneyland
Beignets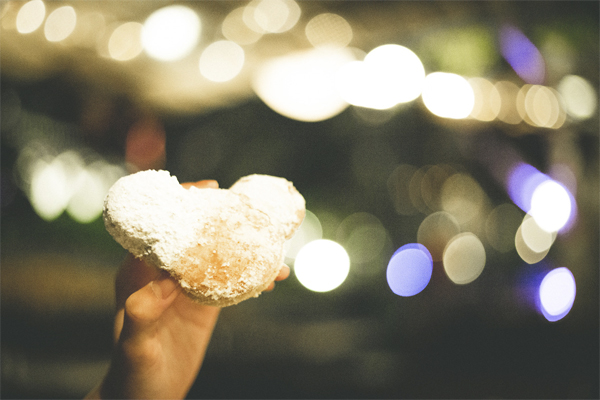 What: Consider these your next-level churros, deep fried dough breathed out into pillow form and dusted with a healthy amount of confectioner's sugar. We prefer the Jazz Kitchen versions because they're square and therefore slightly larger, but the Mickey-shaped ones really get you into the spirit. (You are, after all, in the happiest place on earth).
Where: Mint Julep Bar, New Orleans Square, Disneyland (also The Jazz Kitchen in Downtown Disney)
Lobster Roll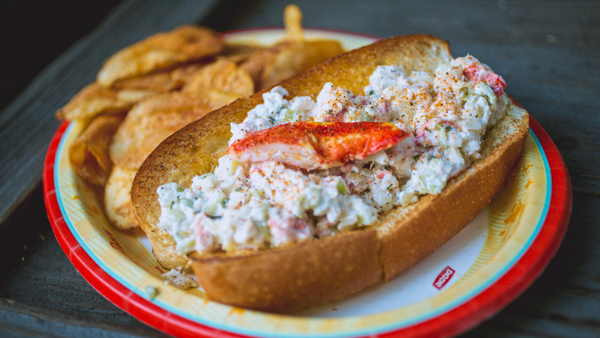 What: There are plenty of hidden gems on the back side of the park, but perhaps none as smack-yourself-upside-the-head surprising as the Lobster Roll at Harbour Galley, right by the exit of the Haunted Mansion. Inside a fluffy, butter-toasted roll goes a sparingly mayo'd lobster salad that may be just tasty enough to beat the legendary McLobster. Will it be the best lobster roll you've ever had? No. But is it one of the best foods you'll find inside the park? Abso-freaking-lutely.
Where: Harbour Galley, Critter Country, Disneyland
Carnitas Nachos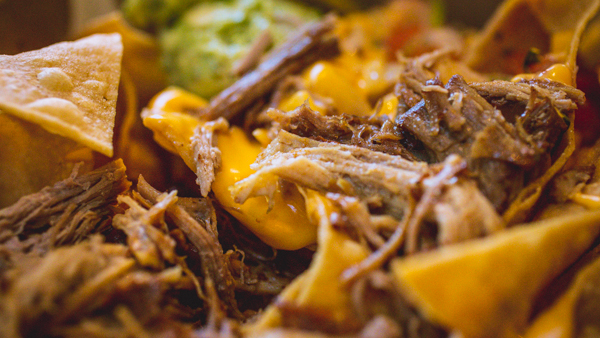 What: We suggest skipping the pool after trying these fellas. Tucked inside the Grand Californian, past the hotel entrance to California Adventure, is White Water Snacks, a cute place to grab a quick bite to eat . . . or knock yourself into a food coma for a few hours with any of their angus cheeseburgers or shredded beef nachos. Swap the carne asada for carnitas and you're onto some serious black magic.
Where: White Water Snacks at The Grand Californian (by the pool)
Broasted Chicken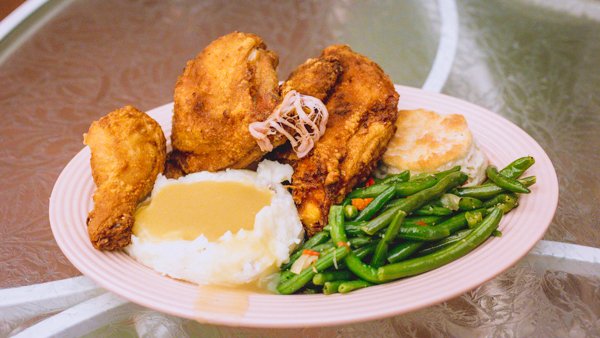 What: I'll just out and say it: this chicken is crack. Deep fried, golden brown, salted-to-perfection crack. Forget the usual trumpets of turkey. The Plaza Inn serves up dinner just like mom used to when guests were over — fully dressed with green beans, mashed potatoes, and dinner rolls. Altogether it's as filling and homey as theme park food can be.
Where: Plaza Inn, Main Street, Disneyland
Barbecue Chicken Stuffed Baked Potato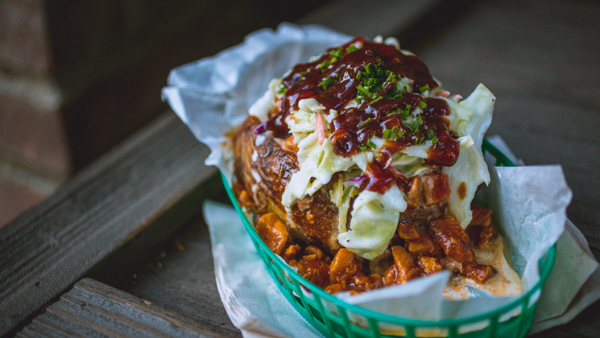 What: The chicken comes juiced up in a sweet orange glaze and spooned unfussily — along with chives, cole slaw, sour cream, and butter — into a steamy crevasse of baked starch. You'll need every bit with every bite (the chicken can be too sweet otherwise), but there's nothing better for fueling you up at snack time.
Where: Harbour Galley, Critter Country, Disneyland
Lobster Nachos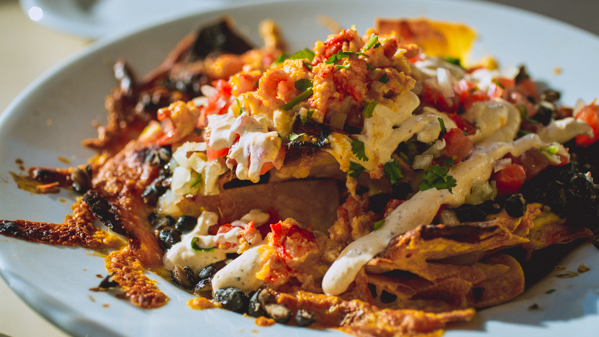 What: No trip to Cove Bar is complete without washing everything down with a heavy helping of Lobster Nachos. There's nothing too crazy here: lobster pieces, cheese, black beans, gorgeously thick tortilla chips. The good news is there's plenty to go around, so bring a friend or four.
Where: Cove Bar, Paradise Pier, California Adventure
The Monte Cristo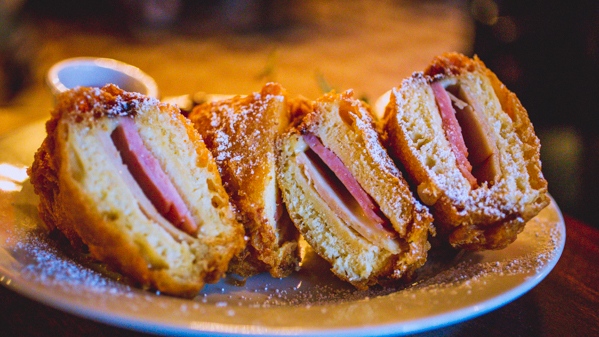 What: The ultimate indulgence, this sugar-powdered deep fried ham and cheese sandwich will set you back an not-insignificant $17 — (that's a whole parking pass!) — but it's well worth it, trust. Surprisingly ungreasy, the melty slabs of toast are sure to satisfy for an entire day. Sides of fruit and jam add a nice, fat-cutting, finishing touch.
Where: Cafe Orleans, New Orleans Square, Disneyland
_______________
Honorable mentions: Corn Dogs at Little Red Wagon and Corn Dog Castle, Red Velvet Push-Pops at Hearthstone Lounge, Cookie Bakes at Big Thunder Ranch Barbecue, Bacon-Wrapped Asparagus at Bengal Barbecue, Elote (chili-lime corn on the cob) on the Boardwalk, House Biscuits at Carthay Circle, Chorizo and Eggs Breakfast Scramble Cone at Cozy Cone
Via Foodbeast
Know anyone that's visiting a Disneyland theme park soon? Share these delicious Disneyland bites with your friends!